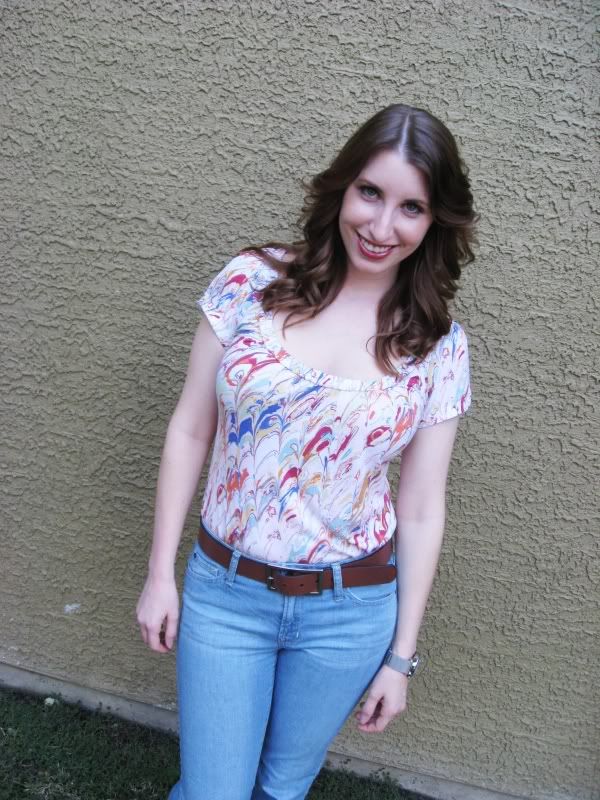 Shirt: Anthropologie, Jeans/Belt: Gap, Watch: Fossil, Shoes: DSW
Yesterday was a busy, but mostly fun filled day. I worked from 7-2pm, which wasn't too terrible, and then came home to shower to go to J and L's house. The boys went fishing while us girls hung out and beautified ourselves. I gave L a blow out and curled her hair and I did her eye makeup. She was b-e-a-utiful. I also curled my own hair, as you can clearly see above. I also looked like I came straight from the 1970s. The combination of Farrah Fawcett hair, somewhat high waisted, light colored flares and a tucked in shirt screams, "Hello, Angels." "Hi, Charlie!" to me. Even J said something about it. Also, I think my camera is getting old because my pictures are getting blurry. Boo.
We went to dinner and ate some yummy Mexican food and then we went to Freddy's to get some frozen custard. I had never had custard before. It was pretty good. I approve. After that, we went to pick up cute baby O, then went back to J and L's house for a minute before Matt and I headed home. Overall it was a good night.
Now, I'm home from work, cleaned up the apartment a little bit and then am gonna go to Gran's for a bit. Tomorrow is my day off and I am suuuuper excited. I plan to spend it at church and then helping a friend shop for some new clothes. Sign. Me. Up.