Anthropologie
posted new outfits online. You know that what means, right? I spent time looking at them. Analyzing them. Wishing I was wearing them. The two that I loved the most are: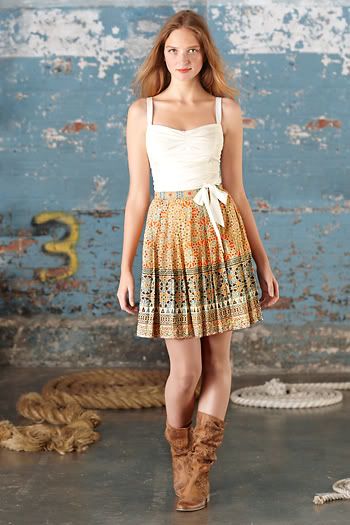 This one would be great for an evening bar-b-que. Simple, yet chic. The next outfit is:
LOVE. Can we say date night? Perhaps on the Isle of Capri in Italy? No. Well, okay. I'd settle for say, dinner at home, I guess.
Speaking of date night, Matt and I have THREE this weekend! The first is with another couple and we're making homemade pizza. We're also using the Groupon I bought for
Nothing Bundt Cakes
. Yum! The second is Matt making us steaks at home. Another yum. And lastly... Sunday. Our anniversary. We have $75 in gift cards to PF Changs, so we're going to go stuff ourselves silly. So excited for that!